Ashley Charnetski Attends Estate Planning In Depth Seminar
07.04.2016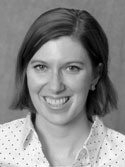 Estates, Wills and Trusts are becoming increasingly complex and Whitfield & Eddy Law continues to make sure that clients are prepared for their immediate and future needs. The firm's Estates, Wills and Trusts department tapped associate attorney Ashley Charnetski to attend the Estate Planning in Depth seminar in Madison, Wisconsin, June 26 to July 1, 2016.
Ms. Charnetski brings the firm a background in estate planning, business law, corporate matters and real estate transactions which play a vital role in intergenerational family estate planning. In the intensive seminar, Ashley studied under top professionals in advanced strategies including:
Managing inherited wealth with trusts
International estate planning basics
Digital asset coverage
Selecting, educating and protecting trustees
Succession planning and estate planning for business owners
Estate planning for highly compensated professionals
Planning needs for elderly and disabled clients
Charitable planning strategies
The seminar provided valuable continuing education to Ms. Charnetski's background in estate planning and agricultural law.
Contact Ashley to learn more about the difference that Whitfield & Eddy Law can bring to your advanced planning needs by email or call 515-288-6041.
Learn more about the seminar by visiting their website.