Welcome to 2021 Summer Associates
06.25.2021
Whitfield & Eddy Law welcomes first- and second-year law students as summer associates (from left) Nathan Britton, Logan Namanny, Katelyn Kurt, Trevor Jordison, and Shianne Thomas. The Whitfield & Eddy Law summer associate program participants actively work with our attorneys and practice groups on a variety of projects designed to promote pursuit of their interests in the law. In addition to learning and practicing the practical application of their law school studies, they participate in an array of workshops, seminars and social events designed to promote engagement and interactions within the firm and community.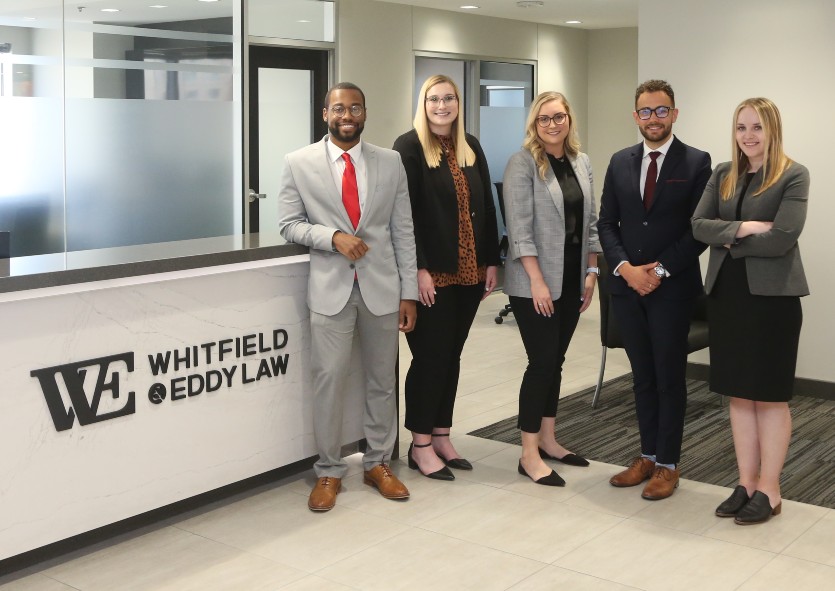 Ms. Namanny, Ms. Kurt, and Mr. Jordison return from the firm's 2020 summer associate program. Mr. Britton, Ms. Namanny, Ms. Kurt, and Mr. Jordison attend the Drake University Law School. Ms. Thomas attends the University of Iowa College of Law.
Mr. Britton is a member of the Drake University Law School Cady Law Opportunity Fellow Program, which provides students with mentorship, leadership training, and internships with Des Moines-based companies and law firms. He spent the first part of the summer with Wells Fargo. The program is named in recognition of the late Iowa Supreme Court Chief Justice Mark Cady, a Drake University Law School alumni, and his commitment to diversifying the legal profession.