Wrongful Termination Checklist
05.19.2021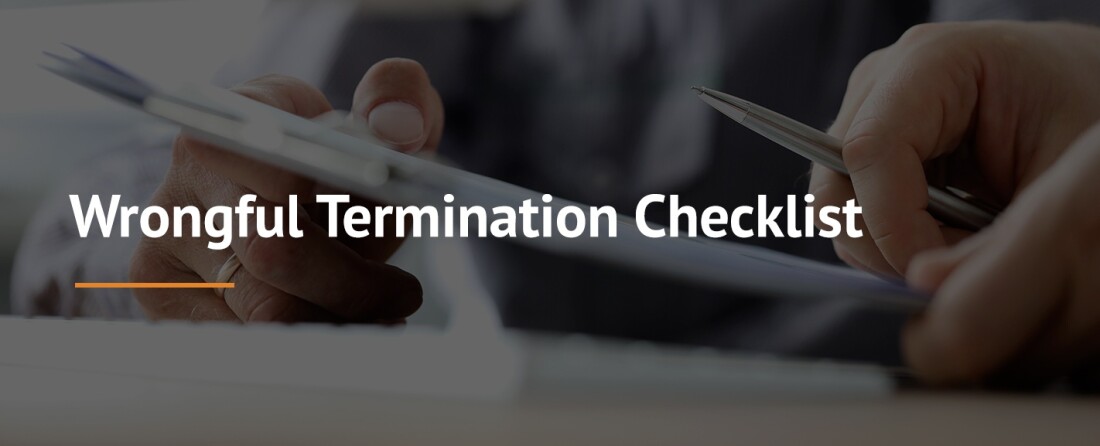 The decision to terminate an employee is often not made lightly, as it can impact morale among the remaining employees and devastate the terminated employee and his or her family. While it can be necessary to terminate one of your workers, you may want to follow a checklist to avoid inadvertently violating labor laws. With a wrongful termination checklist, you can ensure you follow a process that addresses all the federal and state laws.
At Whitfield & Eddy Law, our comprehensive advisory services for labor and employment matters include wrongful termination issues. We represent organizations with employees in Iowa that are considering terminating employment, and also handle wrongful termination cases across the Midwest. If you are an employer dealing with a wrongful termination case, we work to help you preserve your organization's reputation and assets after you have been confronted with a claim.
What Qualifies as Wrongful Termination?
Though some workers may feel like they have been wrongfully terminated if they are fired without cause, the legal definition is more specific. Wrongful termination occurs when an employee is terminated for an illegal reason. Illegal reasons for termination can include a contractual breach of a violation of anti-discrimination laws. The following are wrongful termination examples:
An employee cannot be fired for a discriminatory reason: It is illegal to fire an employee based on their gender, race, religion, or citizenship status. If an employee believes they have been fired due to unlawful discrimination, this can lead to a lawsuit.
An employee cannot be fired in retaliation: Employees cannot be fired because they have filed a legal complaint against you (for example, a protected whistleblower). If you fire an employee for this reason, it can be considered retaliation, which is unlawful and falls under the umbrella of wrongful termination. You also cannot fire an employee simply because they filed a claim for workers' compensation.
An employee contract that requires a cause for termination: If an employment contract, such as a Collective Bargaining Agreement, requires there must be a cause for an employee's termination, employers should review the contract to determine what defines "cause," such as disclosure of company secrets, willful misconduct, or a continuous failure to perform work tasks.
An employee cannot be fired due to their medical history: The Genetic Information Nondiscrimination Act prohibits employers from using an employee's genetic information to make employment decisions. If you fire an employee due to this information, you or your organization may face penalties from the government.
Employees often allege a wrongful termination occurred when they believe the reason for the termination was against public policy, the employer violated the terms of an employment contract, or the termination violated local, state, or federal laws.
Wrongful Termination Checklist for Employers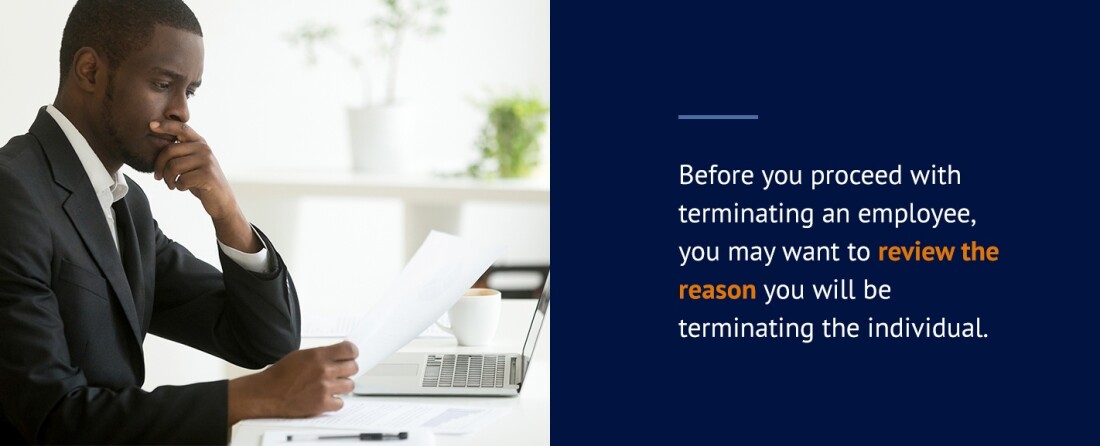 Before you proceed with terminating employment, you should understand the reason(s) and justifications for the decision. When creating a wrongful termination checklist for your business, keep these points in mind:
1. Misconduct or Violations of Policies and Procedures
First, you should review all the documents associated with your employee's employment. The following are the areas most frequently cited as reasons for firing an employee:
Unsatisfactory conduct
Unsatisfactory attendance
Unsatisfactory job performance
You may offer the employee an opportunity to resign, or you may offer severance/notice pay. If your worker resigns, they may not receive unemployment benefits.
2. Review the Employee Contract
Another item to cross off the wrongful termination checklist is to review the employee's contract. If you are considering terminating employment, you must follow the provisions outlined in the worker's contract or applicable Collective Bargaining Agreement. The contract may include specific measures you must take during termination, such as providing a warning, following progressive discipline steps, or offering severance pay in exchange for a release.
If there is no contract, then you may need to review the applicable state laws. Iowa has employment-at-will laws. This means an employer can terminate an employee without a reason or for any nondiscriminatory reason. In some states, however, there are guidelines and restrictions about when, how, and if you can terminate employment.
3. Avoid Discriminating Based on Disability Status
Next, you will want to ensure you are not discriminating against your employee. One possible area of discrimination is disability status.
Additionally, if an employee becomes disabled, you cannot fire them because of the disability. If an employee's work performance alters because of a disability or illness, you may be required to attempt to make accommodations for this individual.
4. Avoid Discrimination Against Employees in a Protected Class
Though most employers would not terminate employment due to the employee's protected class status, employers also need to be aware of whether the employment termination would cause a disparate impact. For more information on protected class status and disparate impact, contact Kay Oskvig at Whitfield & Eddy Law.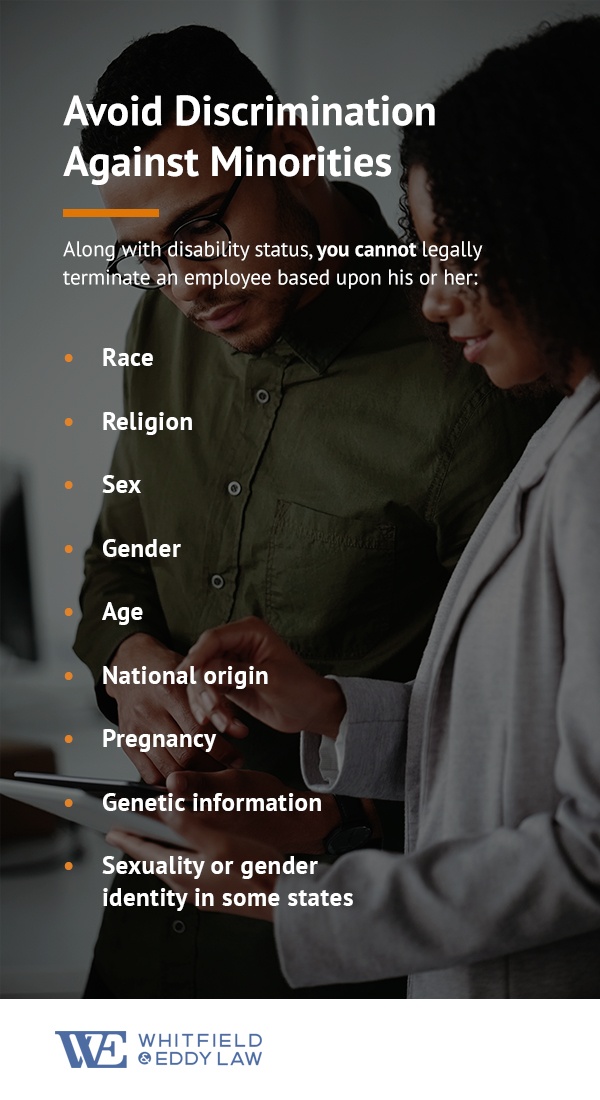 5. Draft a Final Paycheck Letter
Consider whether your final paycheck or employment termination letters capture all of the mandatory language and notices your organization is required to provide employees when their employment ends, particularly when termination of employment is involuntary (employer-initiated).
Contact Whitfield & Eddy Law for Legal Assistance
At Whitfield & Eddy Law, we strive to be The Right Firm. The Right Fit. Our attorneys are trusted for their ability to provide practiced, effective, and carefully crafted solutions to address complex legal challenges. Our firm is experienced, steady, and knowledgeable. Kay Oskvig has experience advising corporate, nonprofit, and government organizations through termination of employment decisions.
We focus on providing legal counsel that anticipates our clients' needs so they can focus on their business goals. Contact Kay Oskvig at Whitfield & Eddy Law today for advice regarding an upcoming termination of employment, or if your organization is aware of a potential or filed complaint alleging wrongful termination.