Financial Guide to Divorce
09.08.2020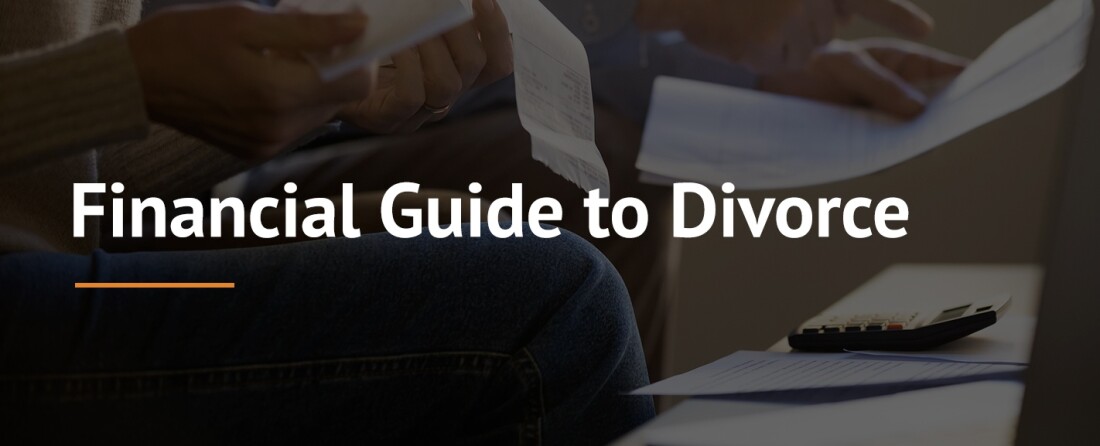 Are you looking for financial guidance as you prepare to go through a divorce? Divorce is already one of the most stressful experiences in a person's life and this process can be even more stressful if you are dealing with money complications.
To help you through the process, we compiled this financial guide to divorce settlement to answer all your questions and help you navigate the financial aspects of divorce. You can contact one of our family law attorneys at Whitfield & Eddy Law for legal help with your divorce case.
1. Put a Team Together to Help You Through Divorce Proceedings
Going through a divorce can feel exhausting and isolating. This is why it is important for you to put a team together that supports you and provides help when you need it. Write a list of the people you want on your team. While making your list, consider you will need legal, financial, and emotional support during your divorce proceedings.
Emotional Support
For emotional support through your divorce, lean on your family, friends, coworkers, church, and divorce counselor:
Family: Family members are often the best people to turn to for emotional support during a divorce. Seek out the relatives you trust and add them to your team so they can offer necessary emotional support during this time.
Friends: Identify close friends you trust, and lean on them for support through your divorce proceedings. Friends who have gone through a divorce themselves may be able to offer helpful advice and empathy.
Co-workers: If you have worked for the same employer for a while, you may have developed friendships with some of your co-workers. It is likely that at least one of your co-workers has gone through a divorce, and you can talk with them about it on your breaks or outside of work.
Church members: Whether you choose to open up to your church family may vary depending on your religion, but your pastor and trusted church members can still offer their emotional support and prayers.
Divorce counselor: A divorce counselor is specifically trained to work with those who are going through a divorce. A counselor can offer advice, and you can speak to them about things you do not feel comfortable discussing with anyone else.
Reminder: You do not want to discuss the topics you discuss with your lawyer that you discuss with the above people. Friends, family, co-workers, and acquaintances could be called to testify if your case goes to trial.
Financial Support
For financial support through your divorce, you can add a real estate agent, insurance broker, and financial advisor or certified public accountant to your team:
Real estate agent: Now is the time to start scouting for real estate agents if you own property. Selling your home with the spouse you are divorcing can get complicated, and it may be a very different experience from selling a home on your own. An experienced real estate agent will be able to help you through the process.
Insurance broker: An insurance broker can walk you through your options for all your insurance policies, such as whether you need to adjust your existing policies or find new policies.
Financial advisor or CPA: A financial planner or CPA will advise you of your options, help you save money, and advise you on making money decisions. A financial advisor can help you create a plan for getting value from your marital estate.
Legal Support
For legal support through your divorce, you will want an attorney and a paralegal on your side:
Attorney: An attorney can offer legal advice and help you achieve the best outcome in your divorce proceedings. With an experienced divorce attorney, you are more likely to receive your rightful share of the estate and find any hidden financial accounts your spouse may have had.
2. Create a Plan With Your Team
Having a plan is a helpful starting point for getting your finances together after a divorce. Your team is crucial to your plan, as you do not need to complete every task on your own. Your plan for divorce should include legal, emotional, and financial plans.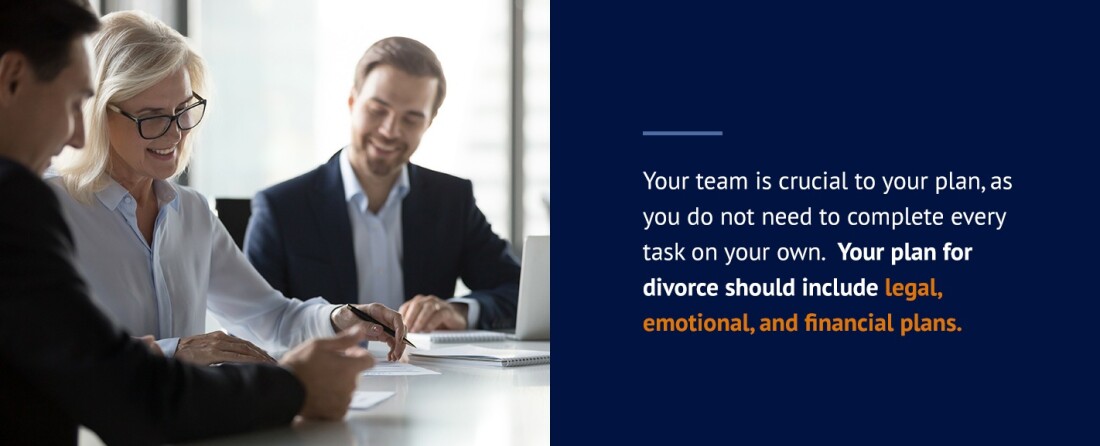 Legal Plan
The following are tasks that should be included in the legal part of your plan:
Write or adjust your will.
Update your insurance policies and change your beneficiaries.
Research the child support laws in your state.
Determine where your divorce paperwork should be filed.
Keep the details of your divorce confidential.
Decide whether you will change your last name. Your legal name should match your name on any loan or credit accounts.
Update your records with the change to your marital statuses, such as your utility bills, tax records, and property titles.
Emotional Plan
The following are tasks that you may want to include in the emotional or personal part of your plan:
List items you want to keep, such as jewelry, photo albums, sentimental notes, heirlooms, or antiques.
Remain single until the paperwork for your divorce is complete.
Open a new P.O. Box if you want to get your mail delivered to a more private location.
Discuss how you will tell your child about the divorce and how you and your soon-to-be ex-spouse will help your child cope.
Create future goals that give you something positive to look forward to. This is a great time to consider your interests and determine what you would like your future to hold.
Determine your child's schedule so a plan can be made for where the child and parents need to be at what time, along with which parent will be responsible for getting the child there.
Heed only solicited advice from those you trust.
Financial Plan
The following are tasks that should be included in the financial part of your plan:
List all your outstanding debts.
Choose a place to live and create a budget.
Make your career a priority to ensure you have sufficient income to support yourself when you are single.
Collect as much of your financial paperwork and information as possible, such as real estate paperwork, tax returns, and investment account statements.
You may want to remove your spouse from existing checking and savings accounts or open a new checking and savings account. Consult with your attorney before making any changes to your accounts.
3. Budget and Track Your Income and Expenses
Next, budget and track your income and expenses to get your finances in order during a divorce. A budget will help you determine what your income and expenses will look like after divorce. It can also assist your attorney and the judge in determining how to split debts and assets and whether child support or spousal support should be awarded.
Ideally, you will already have been tracking your expenses for months or years. If not, now is the time to start. Include your expenses for:
Food
Child care
Transportation
Entertainment
Clothing
Home maintenance
Household bills
Include your costs for anything else you spend money on. You can use your credit card and bank statements to estimate your spending in the last few years. Your next step is to use this information to predict your future expenses.
Consider costs beyond your typical monthly expenses, such as your vacations and infrequent expenses like a dishwasher replacement. Previous years can provide guidance, but keep in mind that this is only an estimation. For instance, if you have a child, your expenses will change as your child transitions from daycare to elementary school to high school to college.
Also, consider how your expenses and income will change after divorce. You may be moving from two incomes to one, selling some of your assets, and receiving child support or alimony. You will now be solely responsible for all your expenses, which may include spousal or child support and lawyer fees.
If you do not have an emergency fund, now is the time to start saving. Many financial experts recommend saving three to nine months of expenses for your emergency fund, which is why it is so important to know what your total monthly expenses tend to be.
Other Tips for Handling a Divorce Financially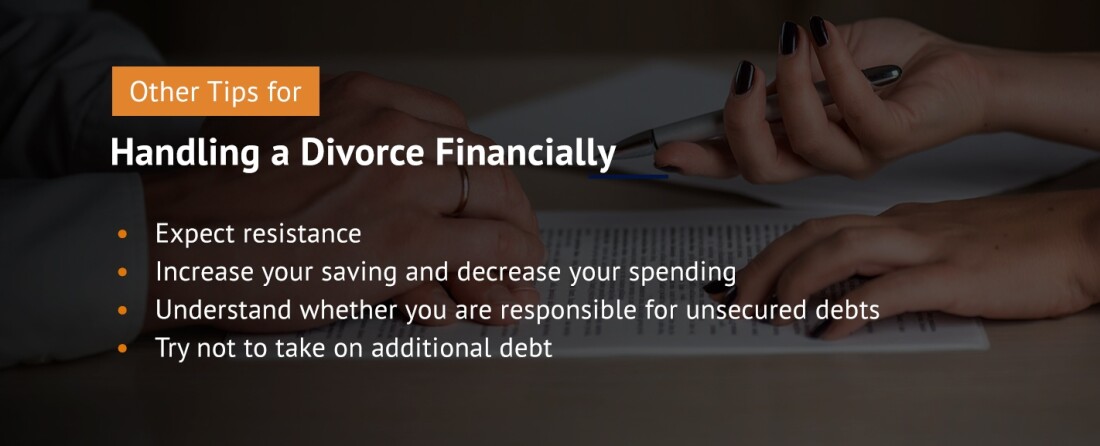 The following are additional tips for handling a divorce financially:
Expect resistance: While there may be a free exchange of information in an amicable divorce, you may not be as lucky if your divorce is not amicable. As such, expect resistance from your spouse and try to collect the necessary paperwork before you file. Consult with your attorney if your spouse is fighting you through every step of the process.
Increase your saving and decrease your spending: During an amicable divorce, you may want to come to an agreement with your spouse about focusing more on saving and spending less. If you are facing a divorce that is not amicable, you may want to discuss a legal separation with your attorney.
Receive Legal Assistance From Whitfield & Eddy Law
Are you contemplating divorce or currently filing for divorce? If so, you may want to seek guidance financially and legally to ensure you get a favorable outcome. Contact one of our family law attorneys at Whitfield & Eddy Law for legal help with your divorce case.