Overview
Tyler Coe is known for his approachable demeanor and awareness of the many factors that come into play in each case. High conflict cases and financial matters are key areas of emphasis for Tyler. He thoroughly analyzes and collaborates with clients to understand and get to the bottom of complicated relationships.
As a family lawyer, he is experienced in managing cases involving divorce, child custody, modifications, and high conflict disputes. He is familiar with the unique needs in mid-to-high asset divorce. He routinely represents young professionals, established professionals, business owners, executives, and stay-at-home spouses. He works closely with financial advisors, accountants, and therapists to provide a full spectrum of services and assistance for clients.
He focuses his practice on families and the personal needs they may have both during and after dissolution. He is able to assist in matters involving children and can help establish plans that prepare for their future. Tyler also provides mediation services, which enables the parties to have greater control over their end result. Additionally, he assists clients with pet custody issues.
Tyler believes it is never too soon to establish plans for life, including consulting on pre-nuptial agreements. With every stage in life, and accompanying changes in responsibilities, Tyler can provide insight and detail to help build confidence in a sound life plan. Additionally, he provides advisement and litigation services to mental health professionals regarding records, best practices regarding document management, and subpoenas.
Tyler's community involvement includes serving on a non-profit board that was ranked on Business Record's Book of Lists as one of the top-25 most influential boards in the Des Moines metro area and the Downtown Des Moines Chamber of Commerce. Currently, Tyler serves as vice president of a non-profit board dedicated to children's mental health. He regularly provides media outlets and professional organizations with commentary on Iowa law.
Tyler Coe's e-mail newsletter, DSM Divorce Lawyer, includes current information on divorce and family law and is written for professionals assisting families across Iowa including therapists, financial professionals, bankers, accountants, real estate agents, and lawyers.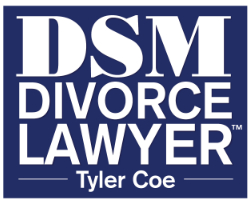 Experience
Experience
Seminars
Family Law Seminar, Iowa State Bar Association, October 2019
American Academy of Matrimonial Lawyers and Business Valuation Resources National Divorce Conference, Las Vegas, NV, May 2019
Family Law Seminar, Iowa State Bar Association, October 2018
Iowa State Bar Association Bench-Bar Conference, May 2018
Family Law Mediation Training, Des Moines, IA, January 2018
Iowa State Bar Association Family Law Seminar, October 2017
American Academy of Matrimonial Lawyers Institute for Family Law Associates, Chicago, IL, June 2016
News & Events
Events & Speaking Engagements
Thought Leadership
Thought Leadership
Public Speaking and Commentary
Speaker, "Assisting Family Law Clients with COVID-19 Related Issues," Iowa State Bar Association, April 2020

Speaker, "Divorce and Custody; Dealing with Parents, Kids, and Lawyers," Iowa School Counselor Association 2019 Annual Conference, November 2019

Speaker, "Know Your Rights!" Please Pass the Love – 2019 Stomp Out Stigma Youth Mental Health Conference, Des Moines, Iowa, October 2019

Speaker, "Legal and Ethical Considerations," Central Iowa Supervision Partnership Fall Conference, Des Moines, Iowa, October 2019

Speaker, "Yours, Mine or Ours? Gifted and Inherited Property in Divorce," Iowa State Bar Association webinar, August 2019
Speaker, "Divorce & Family Law Legislative Update," Iowa Mental Health Counselors Association 13th Annual Conference, May 2019
Speaker and panelist, "Varnum and Beyond: The Protection of Fundamental Rights in the Decade since Varnum v. Brien," Blackstone Inn of Court, April 2019
Commentator, "Proposed Joint Physical Care Legislation in Iowa," WOI Channel 5 News, March 2019
Faculty Presenter, "Business Assets in Divorce: Overcoming Top Challenges," National Business Institute national webinar, March 2019
Commentator, "Federal Government Shutdown Effects on Family Law Clients," Iowa Public Radio River to River, January, 2019
Keynote Speaker, "Ethics," Central Iowa Supervision Partnership Fall Conference, Johnston, Iowa, September 2018
Guest Speaker, "Divorce Beneficiary Designations for Insurance Agents," New York Life Insurance Company, Ankeny, Iowa, July 2018

Commentator, "Masterpiece Cakeshop United States Supreme Court Ruling," WOI-TV 5 News (ABC affiliate), June 2018

Guest Speaker, "Masterpiece Cakeshop case before the United States Supreme Court," American Constitution Society, Drake Outlaws, and Drake Law School, Des Moines, Iowa, June 2018
Teaching Appointment
Adjunct Professor, Law Constitutes A Family, Drake University, Des Moines, IA, 2018
Affiliations
Affiliations
Polk County Bar Association
Iowa State Bar Association

Member, Family & Juvenile Law Section Council, 2018
Editor/Contributor ISBA Family Law Manual 2017

Barrister, Blackstone Inn of Court
Associate, Jack D. Levin Family Law American Inn of Court
community
Please Pass the Love, Vice President, Board of Directors (December 2019—present), Member, Board of Directors, (July 2019—present)
Honors & Recognitions
Honors & Recognitions
Polk County Bar Association Volunteer Lawyers Project: recognized for pro bono work hours in 2018—2019
Client Testimonials
Client Testimonials
It was an absolute pleasure working with Tyler
Tyler Coe and the Whitfield & Eddy Law staff were very helpful and responsive to all my questions and concerns. Tyler provided an excellent service and displayed full knowledge and professionalism in all legal matters. He went above and beyond and made me feel confident in trusting him with a very stressful situation. I would highly recommend him and the Whitfield & Eddy Law firm staff to other perspective clients!
-Former client with child custody and support matters
amazing in my divorce case
He truly listened to what I wanted and how I wanted things handled moving forward. He clearly communicated throughout the whole process and even after it was all said and done. I have reached out to him pertaining to other legal matters and Tyler has always given me solid/useful options for any further help I have needed even if it wasn't in his wheelhouse. I appreciate the "extra" work/effort he has always put on the table when it comes to helping me! I'm proud to call Tyler my friend even when he isn't my lawyer.
-Former client with divorce and child custody matters
a very knowledgeable and compassionate attorney
As a Mental Health professional in the Des Moines area I often have clients looking for a kind and smart attorney to help them in a high-conflict divorce. Tyler is a strong recommendation. He has a profound understanding of what is needed when dealing with a "bully" in a soon-to-be-ex. He has served a number of my clients to a successful and comfortable outcome during a very difficult time.
-Local therapist
Practice Areas
Education
University of Iowa College of Law, J.D., 2014
Drake University, B.A., Law, Politics and Society, 2011, magna cum laude